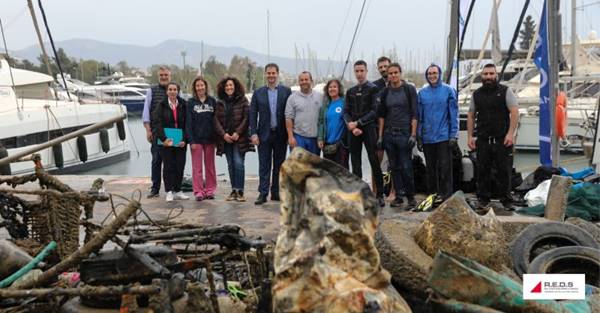 On Sunday April 17th, Nea Marina Alimou carried out an underwater beach cleanup in Pier 4, in cooperation with the volunteers from the "Beach Cleaning" team. The divers picked up a hefty amount of garbage from the bottom of the sea, which was then weighed and categorized.
The initiative was organized on the grounds of the "Blue Flag" certification and took place under the auspices of the Municipality of Alimos and the Ministry of Maritime Affairs & Insular Policy.
Present during the clean-up was Mr. Harry Theoharis, Parliamentary Spokesperson of Nea Dimokratia as well as Mr. Stefanos Diamantis, President of the Alimos Municipal Council.